The man above is indeed the legendary Dick Trickle. He was a hard charger in his day, and though his name has been made fun of by a lot of people, Dick was all business on race day.
This next pic is of Cale Yarborough. Cale was an iron man in his day. He drove hurt or sick, but nothing could keep Cale down.
This next pic shows Richard Petty, a young Kyle Petty, and Bobby Allison. These were all guys to beat back in the day.
Buddy Baker. He was a legend in NASCAR for many years. I miss hearing Buddy call the races.
The Silver Fox, or better known as David Pearson talking to Buddy Baker. David is second on the all time win list, and mostly only ran part time in the Grand National series, or what later was known as the Winston Cup and now the Sprint Cup. Had David run full time, who knows how many races he would have won? At 105 wins only running part time, David might have been one of the greatest drivers ever.
Davey Allison talking with Sterling Marlin. Davey was tragically killed in a helicopter accident at Talladega in 1993.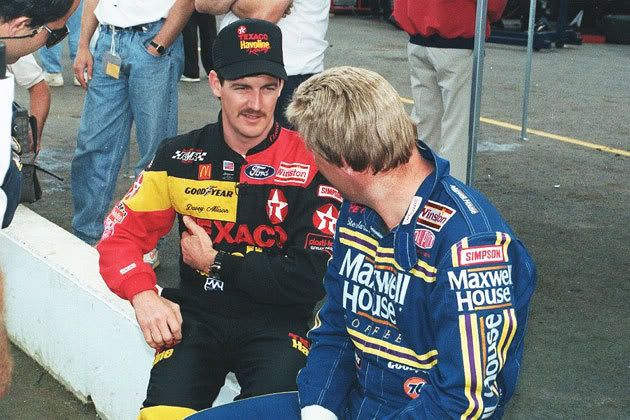 Once again, the Silver Fox, David Pearson.
The man, Dale Earnhardt. This was taken in the late 1990's.
Lake Speed, one of NASCAR's drivers from the 80's and 90's.
The great AJ Foyt. AJ won at pretty much every series he ever ran, and is still revered as one of the best race drivers ever, regardless of series.